Minted Vintage Holiday Gift Guide 2017
It's that time of year already! Can you believe it? It has been a very busy year for us between shows and custom orders and we are so, so thankful! One reason why is because through our travels to events both here at home (WV) and in Ohio, we have been able to meet some really passionate, talented people! With the gift giving season quickly approaching, we thought this would be a great opportunity to share a few of our favorite gift ideas from those small businesses.
So without further adieu, here is our first ever Holiday Gift Guide! We hope that this list will help you knock out some of those tough-to-buy for loved ones. Each one of these talented, small business owners offers a unique gift or experience. Don't just buy the same ol' same ol' thing. This year, purposely give your friend or loved one something they can truly use and cherish all while supporting small business.
Happy shopping and Happiest of Holidays to You!
Megan and John
Peyton & Peppy Boutique is a local clothing boutique that carries beautiful women's fashion in sizes S-3XL. Tops, bottoms, dresses, sweaters, jewelry, shoes, hats & scarves, you name it they've got it! The best part is, their stock is constantly changing so there is always something new to choose from.
If you aren't sure about buying clothes for a gift then purchase one of their gift cards and let that woman in your life enjoy shopping! Not local? That's OK too, they have a website you can order from. Click the button below to start shopping!
Our friend at Perfectly Pink, handmakes a variety of health & beauty products. We have used the lip scrub (shown to the right) and it is awesome! She has tons of other products like antibacterial soaps, body washes and frostings, bath salts, foot scrubs, bath bombs and more!
You can find her products at Peyton & Peppy Boutique, Back to the Basics Log Cabin, The Hair Hippie, and River Valley Insurance Agency LLC. Oh and no worries if you're not near one of those locations; she ships!
If you're looking for something fun or personalized then you have got to check out Katy's shop! She makes shirts, mugs, tumblers, seasonal items and more. She has some of the cutest designs right now for the holidays and always has cool state gear to choose from!
Have something special in mind, contact her for a custom order!
Click the button below to see more of her work.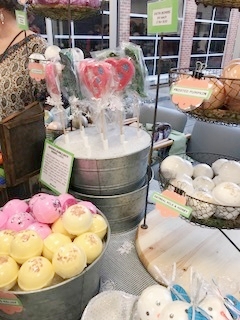 Fun soaps, bath bombs and more!
We were fortunate enough to be booth neighbors with Ingred last weekend at a local event. She is a super sweet lady with tons of fun bath products! The makes soaps for different skin types as well as chapstick, sinus steamers (we're all going to need those this time of year), bath bombs and more!
We got one of her dinosaur bath wands for our boys. They thought it was so cool! It would be such a fun stocking stuffer for kids!
Flannel + Function, yes please!
We met this small business owner at the Vintage & Made Market this past September. She is just the sweetest and has a great eye for style.
At A Stylish Design, you can find handmade one of a kind pieces like kiminos, blanket wraps and clutches! We especially love her flannel clutches. They would make such a great gift!
Go check it out!
Give the Gift of an Experience
Shopping for a family member who loves to work out? Or one that plans on starting? Well guess what, there is a fitness program right here in the Mid Ohio Valley that is designed to suit all levels fitness. You've probably heard about it from social media posts or from friends talking about that day's work out. It is hard work, but it's more than that. Temple Challenge founder, Stacey has created a supportive community that motivates each other to be better in all aspects of life. Want to be apart of it or know someone that does? Get them (or yourself) a gift certificate and start the journey now!
Give the gift of yoga! Flexibility, strength, mindfulness, relaxation...it has so much to offer. Local yoga studio, Full Circle Yoga is open to all ages, abilities and levels of experience.They offer classes from basic yoga to power hour and just about everything in between. When pregnant with our first child, I participated in the prenatal yoga and it was such a great experience! I highly recommend it to any expecting mother's out there.
Oh and they have an awesome Black Friday, Small Business Saturday and Cyber Monday deals planned so head over to their website to check them out!
Fun Stuff for the Kiddos!
Kay Lorraine Boutique makes the cutest dolls and baby bibs. We invested in one of these sweet foxes for our youngest niece after seeing them at an event earlier this fall. They are extremely well-made with all kinds of details. We can't wait for our niece to enjoy her 'lovey' years!
We first saw Bee Mine Sunshine at a barn sale in Ohio. We absolutely love their sweet little handmade bows, head wraps and cute hand picked clothes! They also offer mommy & me clothes, too. Go check out their site to see what cute patterns and prints they have now!
Classic Plastics is a local small business that is stocked up with some really neat 70's and 80's new and used toys, video games and more! On the first Saturday of every month they have free arcade game day! Every other day they're just a quarter to play! How cool is that? The kiddos (and admit it, you too) would love that!
They are located in the Grand Central Mall so make sure you stop in and check them out sometime. We were there not long ago and picked up a bunch of plastic football helmet toys for a certain little football fanatic in our house. He's going to be so excited when he empties his stocking!
If you're looking for something unique but not sure where to find it, then you should check out our friends at Willow & Berry! They have a little of everything from fashion to jewelry to home goods. We think they're pretty great people and we love their style, too!
Looking for a unique statement piece? Check out this wall hanging - modern macrame with a boho twist! We met this handmade artisan at an event earlier this fall.
She makes wall hangings and hanging pot holders and her work is simply beautiful! You can't just walk into a department store and find something like this.
For That Man in Your Life
Help that bearded man you know maintain his beard with The Bearded Pup products! We met this small business owner at the Vintage & Made Market earlier this fall and you could tell his passion as he spoke with shoppers.
Most men are hard to buy for, but you can make it really easy with the Bearded Pup gift set shown here, you get to choose a .5oz beard oil and style of comb. And as a bonus this set includes this rustic box - so all you need is a bow!
Have you been to Crazy Cake Cafe in Vienna yet? If not, you should! They are known for their build-your-own cakes like the one shown here, which just so happens to be the best cake we have ever tried...orange cranberry cake with orange poppy seed icing! You can choose from classic chocolate and vanilla or one of their other specialty flavors then just pick your filling and frosting and sit down to enjoy your very own personalized, single serving of cake.
They are more than just cake though. You can also order special occasion cupcakes and cookies. With the holidays coming up, give them a call and let them make your dessert. Oh and they also have gift certificates,. Check out their Facebook or website for more info!
If you're a local to the Mid Ohio Valley then you've probably tried Q-Wagon BBQ. Between the chicken, pork and brisket, we're not quite sure which is our favorite!
You can try their delicious eats at the Point Park Market Place or outside their food truck (hopefully before they sell out that day!) They also offer catering packages, so keep them in mind as you gather together for the holidays. Spend more time with family and friends and less time in the kitchen!
Do you have a foodie to buy for? How about a basket of yummy jellies. You can't go wrong there. These jams are made right here in Parkersburg with locally grown and picked fruits. Here are a few of their current options!
Black Raspberry Jam or Jelly
Red Raspberry Jam
Strawberry Jam
Elderberry Jelly
Blueberry Jelly
Cherry Pie Jam or Jelly
Strawberry Rhubarb Jam
Damson Plum Jam
Heirloom Tomato Jam
Wild Ramp Jelly
You can purchase these jellies and jams at the Point Park Marketplace, Mother Earth Foods, Crowne Florals and more. Click below to find a location near you!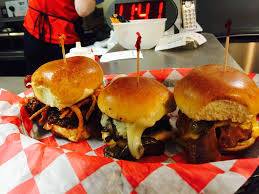 Another great gift idea for all the foodies out there - Chan's Diner gift cards! Chan's is a local diner that has an endless variety of meals to choose from, so this makes for a great option for gift exchanges, teacher gift, or stocking stuffer.